Archive for the 'The Pitchfork' Category
On July 4, around 8 am, the French Quarter was wild with heat. I walked up St. Peter's and took a left on Bourbon, where street cleaners hosed off the previous evening's bacchanalia of regret. At Canal, I went left and by the time I reached St. Charles my glasses were fogged with humidity. I crossed Poydras and went to Camp Street. From there, I went right and my pulse quickened, anticipating the famous absence I'd traveled here to witness. I was making this walk well after the press had left town and well before white supremacists terrorized Charlottesville, Virginia, to experience the empty plinth where a statue of General Robert E. Lee once stood.
But then my geography got rusty. I was expecting to see the conspicuous display of emptiness about two blocks straight ahead. My body tensed in anticipation. But crossing Andrew Higgins Street, I looked right to make sure all was clear, and it was in that nanosecond that I unexpectedly got a direct view of the nothingness that was indeed something and—a reaction I don't typically have—I gasped.
Read more here.
In the fourth volume of Brett's Miscellany, published in Dublin in 1757, readers could find an entry on a custom called "throwing at cocks." This was an activity where a rooster was tied to a post while the participants, as if playing darts, threw small weighted and sharpened sticks (called coksteles) at the poor bird until it expired. The article explored the sport's origin: "When the Danes were masters of England, and used the inhabitants very cruelly," it began, "the people of a certain great city formed a conspiracy to murder their masters in one night." The English artfully devised "a stratagem," but "when they were putting it in execution, the unusual crowing and fluttering of the cocks about the place discovered their design." The Danes, tipped off by the commotion, "doubled their cruelty" and made the Englishmen suffer as never before. "Upon this," the entry concluded, "the English made custom of knocking the cocks on the head, on Shrove-Tuesday, the day on which it happened." Very soon "this barbarous act became at last a natural and common diversion, and has continued every since." Thus the innate human urge to throw things at things entered the early modern era.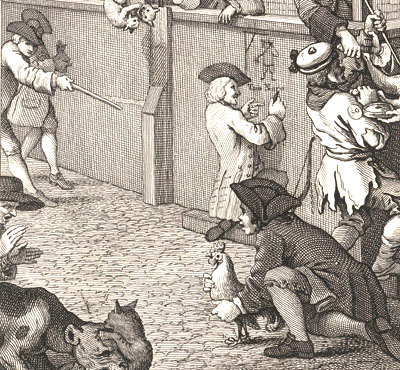 WILLIAM HOGARTH DEPICTED COCK THROWING IN 
THE FOUR STAGES OF CRUELTY, CHILDREN TORTURING ANIMALS 
(1751).
Throwing at cocks continued well into the late eighteenth century. Although the custom, according to Remarks on the character and customs of the English and French (1726), exemplified a "diversion of the meanest of the populace," throwing at cocks was soon normalized. It ranked up there with "playing at foot ball," "bowls," and "prize fighting." A Complete History of the English Stage (1800) referred to it as an "annual sport." In 1747, a volume called The History and Present State of the British Isles lumped throwing at cocks with "wrestling," "footraces," and "nine pins" as "the sports of the common people." A regular activity, in other words.
In time, the moralists cracked down on such hoi-polloi barbarity. Anyone who knows anything about throwing at cocks probably does because of Hogarth's etching, First Stage of Cruelty, which demonstrates—while censuring—the incivility of this particular blood sport. John Brand, in his 1777 Observations on Popular Antiquities, notes that, "to the credit of our northern manners, the barbarous sport of throwing at cocks on Shrove Tuesdays is worn out in this country." A London minister who published a lengthy sermon on the topic urged "the suppression of the throwing at cocks in the town or city" because it was an activity that all too easily exemplified how "the lower orders of people among us are eminently reproachable." By 1793, the Country Spectator advised that throwing at cocks should be met with the "pain of your heavy displeasure."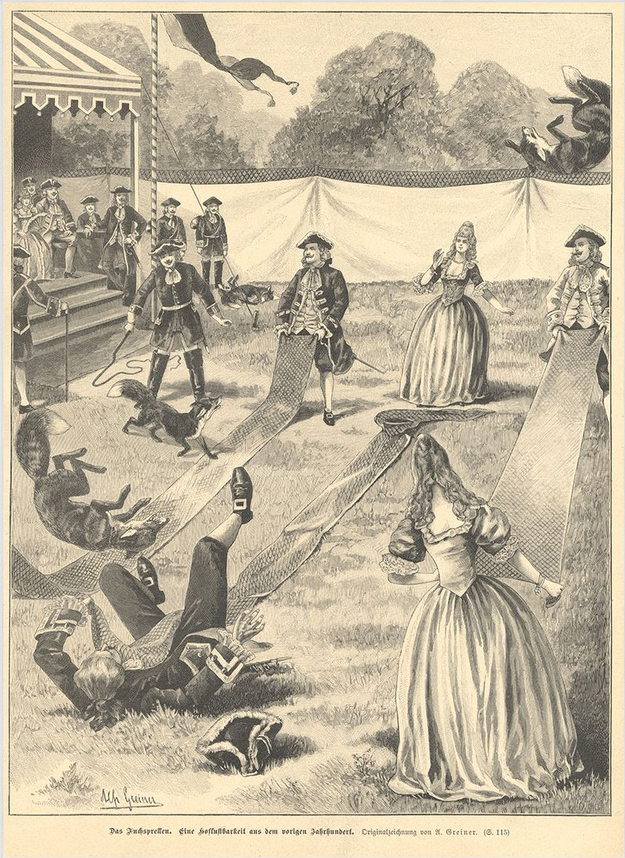 AN ENGRAVING OF GERMAN ARISTOCRATS ENGAGED IN THE SPORT OF FOX TOSSING (1895).
The concern here was more with the "common people" than the animals they abused. The rabble, according to elite assumptions, shouldn't get too rambunctious. But among the aristocracy, blood sport persisted uninterrupted. Starting in the seventeenth century, leisure-minded nobility would often gather in expansive courtyards, drink enough alcohol to sedate an elephant, and catapult foxes (or other animals) skyward. Fox tossing—or, as it was known in Germany, where it originated, Fuchsprellen—was a two-person team sport. In preparation, each member of a team would stand about twenty feet apart, grab the narrow ends of a large rectangular sling, and lay it flat on the ground. A fox would then be released from a cage and driven over to the awaiting tossers. As the panicked fox scurried over the slings, participants tried to catch the animal with their taught fabric and jerk it skyward. Experts might send the animal hurling as high as twenty feet, and victory was given to the highest fox toss. When many teams were playing at once—which was not unusual—multiple foxes would be released and, when all was going well, tossed foxes would fill the sky.
Read more here.
You have to wonder, when considering Frank Stanford, if poetry isn't a little like science in that individuals matter only in so far as they resemble other individuals. Stanford's exclusion from anthologies, his obscurity even to other poets, and the sense that, as one reviewer confessed, "it was difficult to explain where [his] orphic power came from," all contribute to the myth that Stanford, who killed himself in 1978 (aged 29), eluded recognition because he rose de novo from the same Arkansas red soil into which he fell. The additional fact that, as a physical specimen, Stanford was a latter-day Adonis only enhances the myth of his exceptional nature. "His eyes," wrote a friend, "were soft to the point of bovine." His wife, Ginny, an artist, recalled that when she first saw Frank "it was like getting hit on the head with a brick."
There's truth in the romanticized Stanford: He was undoubtedly a rare and beautiful creature. Some critics classify him as a "swamp rat Rimbaud." But that's more cool than accurate. He didn't really know swamps. He knew levee camps, the dark wooded expanse of rural Arkansas, and the gutted mobile homes of the downtrodden. While the id-leakage and surrealist tinge of his work—all of it available in one volume, What About This—hint at Rimbaud, such qualities evoke more a caricature of Rimbaud than the itinerant absinthe addict seeking literary companionship in the metropolis. That kind of quest was one that Stanford, who would have rotted internally at a New York literary gathering, wasn't eager to undertake. "I don't give a shit about a lot of the literary goings on I hear about," he wrote to the poet Alan Dugan, one of his few reliable correspondents. He brushed aside his better-connected contemporaries as overeducated aesthetes "who school up on theories and shit like minnows."
More here. 
Few readers, even the well-read, know much about Allen Tate. Those who do know the arcane American poet—usually professors who teach "southern literature"—would likely not label him a humanitarian. Cerebral, distant, combative, self-obsessed—yes—but not a social reformer in any sense of the term.
And yet (a million caveats notwithstanding) there is something morally ambitious about Allen Tate. For a man whose defining question was "Whom and what shall our souls believe?," this ambition seems a reasonable premise from which to start exploring this underappreciated man of letters. 
A careful reading of Tate's poetry, essays, and letters—comprising nearly a half-century of output—reveals an ongoing humanizing preoccupation: Tate and his fellow travelers—known in the 1920s as the Fugitives and, later, the Agrarians—wanted his readers, particularly those in the South, to feel spiritually at ease in their southern-ness. He wanted them, as complete selves, to be meaningfully connected—weft in the warp—to the American South.
For this to happen, the southerner had to undergo a critical conversion, one that he deemed "violent." The southerner, in essence, had to acknowledge his dissociation from the modernist present while understanding himself and his civilization as continuous with a stable, heroic, and mythical past. The empirical nuts and bolts of history were not so much to be ignored as transcended. Contemporary civilization, in turn, would naturally hew to this intellectual shift.  Eventually, a southern city on a hill would emerge.
This utopian vision of the South, while generous, was elusive. It was made even more so by the belief that the work of poetry could bring it to fruition. And, of course, poetry decidedly failed to bring it to fruition. Tate's quest for a southern renascence suffered, in the end, from a tragic flaw that became increasingly evident as the empirical history of the twentieth century turned the nation's focus—and in turn the South's—to the century-long quest for a racial reckoning.
Read more here.
In the summer of 1984 John McEnroe beat Jimmy Connors in the Wimbledon finals 6-1, 6-1, 6-2. The match was, as one British journalist called it, "the most imperious victory in the history of tennis." McEnroe made only three unforced errors. Seventy-eight percent of his first serves were in. Ten were aces. After a couple of those aces, Connors looked down in confusion, as if his shorts had dropped to his ankles. All McEnroe could say about the match was that the ball looked like "a cantaloupe." It was as close as a tennis player had ever come to achieving actual perfection.
And that was the problem. The awful irony of McEnroe's victory over Connors was that—in its near perfection—the performance couldn't be sustained beyond the moment. The victory thus marked a year during which McEnroe would gradually sense what perhaps only exceptional athletes can sense: the moment of his own demise. The result of that realization for McEnroe was, McEnroe being McEnroe, an explosive moment of personal recognition, manifested, naturally, in an infamous tantrum.
Read more here. 
When I was a history graduate student in the waning days of the analog nineties, there were three kinds of researchers. Most impressive were the archive rats. These chain-smoking, type-A cranks entered an archival collection, knew precisely the evidence they needed, and did everything but ransack the place to find it. They chewed their nails to the nub and suffered insomnia, but their work showed a rare, if manic, evidentiary depth. Then there were the curious browsers: laid-back dreamers with a loosely generalized notion about what they sought. They limited themselves to documents that seemed interesting, floating among their sources with poetic insouciance. Their work, like cloud formations, drifted until it cohered into elegance. (They were also the only grad students I knew who smoked weed.) Finally, there were the surgical strikers. Soulless but engineered for accuracy, these students knew precisely which few documents to examine, did so with disinterested velocity, patched the holes in their dissertations, and then went to lunch. Prolific was how the rats and browsers praised the surgical strikers—faintly, of course.
Full article here. 
Early in her novel Wise Blood, Flannery O'Connor describes protagonist Hazel Motes, leader of the Church without Christ, by the silhouette he casts on the sidewalk. "Haze's shadow," she writes, "was now behind him and now before him." It's a strange way to situate a character — skulking between his shadows — but it's not unprecedented. In The Waste Land, T.S. Eliot's narrator refers to "Your shadow at morning striding behind you/Or your shadow at evening rising to meet you." Coincidence? Nobody can say for certain. But in the rare case of a critic linking O'Connor and Eliot, Sally Fitzgerald (O'Connor's close friend) wrote that "it was Eliot and his Waste Land who provided for her the first impetus to write such a book as Wise Blood."
Read more. 
The American artist William Christenberry, who died at age eighty last November, received a Brownie camera for Christmas when he was a young boy. The first photos he took included images of graveyards. One is tempted to read prophecies into that opening act. The motif of Christenberry's art had always been the rural South. The beloved "postage stamp of native soil" he photographed every year for several decades was in Hale County, Alabama, where he was born and grew up. Graveyard themes such as death and decay are easily attached to the Deep South, which languished during the postwar boom; so it seems natural to attach the same themes to Christenberry's work, interpreting his graveyard debut as the apt initiation into a career centered on a place that was, if only by virtue of its persistent southernness, slowly going to seed.
Read more. 
In 2013, James Patterson, the paperback writer whose volumes are typically consumed somewhere between 25,000 and 32,000 feet above ground, made $90 million from book sales. Ninety million dollars. With publishers finally quashing the old-school idea that big-name authors should release no more than a book a year, Patterson opened the floodgates. After assembling a 16-member gang of ghostwriters (provided by Little, Brown and Company, his publisher) and sketching a series of boilerplate plot lines, Team Patterson started cranking into the lowbrow literary universe two to four "BookShots" a month. He says he looks at writing "the way Henry Ford would look at it." He also says he's responsible for about one-third of his publisher's overall book sales.
The established literati, as you might imagine, wasn't impressed. When Patterson's 2013 windfall earnings made news, Bill Morris, a staff writer for the literary website The Millions, deigned to sample the Patterson oeuvre by reading (while on an international flight) Pop Goes the Weasel. It didn't go well. "Books like Pop Goes the Weasel," he wrote, "are for people who don't really like to read but love to be able to say they have read, much as fruity cocktails are for people who don't really like to drink but love to get knee-walking drunk." Alcohol analogy notwithstanding, the assessment is fairly standard among readers and writers who prefer Proust over Patterson. The man's literary bona fides are, in short, nil.
Read more here. 
As Americans turn to George Orwell's 1984 (1949) to better understand Donald Trump's election, as we entertain the exciting possibility that we can read our way to some level of sensible public understanding, it's time to suggest another classic 20th-century work, one that lends even deeper insight into Trump's unlikely rise to power: Roland Barthes' Mythologies (1957). Like Orwell, Barthes deals in language. Unlike Orwell, he deals in language to elucidate the subversive (and oppressive) power of myth. Trump is more than a butcher of language. He is a builder of myths.
Myths are not, in Barthes' analysis, innocent origin stories. They are dangerous cultural distortions. They cleanse language of its history, and liberate words from their past, all in order to make a non-essential (and often ridiculous) connection seem essential. This somewhat mystical (myths are mysterious) transformation works by suggesting that certain fabricated phenomena are all natural (and, thus, all good) while hiding the cynical process of social construction behind their making. We build myths to prevent as many people as we can from asking questions about the hidden distortion that, inevitably, serves someone's interest at the expense of truth, justice, and enlightened common sense.
Read more here.