Archive for the 'The Pitchfork' Category
Friends,
I encourage you check in and subscribe to my daughter's blog, Zest. She has an interesting take on the intersection of fashion and individuality, and a lot of insightful general ideas to boot. Meanwhile, I have a backlog of articles to post and will do so very soon. My own blog has been dormant for a while but is getting ready to pick up again. Thanks for sticking around.
James
This piece originally ran in The Smart Set.
In the morning," wrote a wistful Henry David Thoreau, in A Week on the Concord and Merrimack Rivers, "the river and adjacent country were covered with a dense fog, through which the smoke of our fire curled up like a still subtler mist." And so the Merrimack River, which young Henry was surveying with a friend in 1839, emerged in print as an idealized thing, a natural phenomenon of a Massachusetts ecosystem inseparable from human activity — mingling its elegant vapor with the "smoke of our fire" — while being warmly respectful of all surrounding features. Nice.
I recalled these dulcet Thoreauvian reveries while at the same time observing the Merrimack's cantankerous counterparts: the violent rivers that wreak Biblical havoc in the literature of the American South. Rivers do not gracefully ebb and flow through the southern literary landscape; instead, they swell into angry ribbons of mud thickened sludge, rising with ruthless force to exceed their boundaries and submerge human ambition and hubris in the same gutted delta, washing the folk away — physically and emotionally — alongside the precarious detritus of their betrayed surroundings. Nothing calming about them. A river in Thoreau's oeuvre invites admiration; but in the southern variation it becomes, as Eudora Welty put it in The Eye of the Story, the South's "describable outside," the very essence of place "that defines us, willy-nilly, to others."
Once you key into that definition, the distinction between the Merrimack and its southern brothers takes on more than anecdotal regional significance. Whereas rivers in the literature of the north urge us, as Whitman cheerily suggested in "Crossing Brooklyn Ferry" (Leaves of Grass), to be "refreshed by the gladness of the river and the bright flow," in the iconic work of southern literature they are a collective phenomenon that, as Faulkner explained in Absalom, Absalom!, "runs not only through the physical land of which it is the geological umbilical, not only runs through the spiritual lives of the beings within its scope, but is very Environment itself, which laughs at degrees of latitude and temperature . . ." The southern river does not, in other words, merely coexist; it coopts, swallows, defeats, humiliates, drowns.
See more here.
When Burt Reynolds died last August, the obits recounted the strange life of an iconic American actor. Particularly weird was how Reynolds often lied about where he was born. He said he was born Waycross, Georgia. Why anyone born in Lansing, Michigan would want to be from Waycross, Georgia is a baffling question. What we do know is that Reynolds, who always identified as southern, and even affected a twang to fit the image, was, with this odd fib, participating in a cultural practice with roots dating back to nineteenth-century plantation culture. Burt Reynolds was "storying."
To best understand storying one could do worse than turn to Kevin Young's The Grey Album. Slaves, denied evidence of their heritage, resorted to counterfeiting tactics to recover a sense of identity and community. The trickster, separated from self, society, and family, storied his way to survival. It was a strategic embellishment, a move that allowed enslaved African Americans and their descendants to "forge their own traditions . . . even their own freedom." Ultimately, it was a habit of mind, one most urgently cultivated in the hothouse of necessity—usually underground, down in the hole, trying to escape the master.
If Reynolds' penchant for storying led him to identify as southern, his role in the 1972 movie Deliverance, based on the novel of the same name, allowed that penchant to intersect with art. Based on the novel by the Georgia writer James Dickey (who also wrote the screenplay), Deliverance is an underappreciated and misunderstood film, one in which Reynolds clearly thrived as a swarthy Lewis Medlock. The movie is typically characterized as a thriller, or (more generously) as a psychological and physical journey undertaken by four Atlanta suburbanites on a canoe trip down North Georgia's Coossawattee River.
Read more here.
The following is the opening to my essay in the summer edition of The Hedgehog Review. Please read the full essay here.
Someday, when we—or our descendants—have enough distance from the present to contemplate who knows what this country will have endured, the presidential election of 2016 will evoke three words: basket of deplorables. This ill-conceived phrase, delivered by Democratic nominee Hillary Clinton at a Manhattan fundraiser two months before Election Day, was the rhetorical flashpoint of a broader takedown:
You know, to just be grossly generalistic, you could put half of Trump's supporters into what I call the basket of deplorables. Right?… The racist, sexist, homophobic, xenophobic, Islamophobic—you name it. And unfortunately there are people like that. And he has lifted them up.1
Those comments marked the moment when an apparently new white identity—though in fact an amalgam of new and older white identities—was ingloriously named. Within hours, thanks largely to Donald Trump's Twitter-driven spin machine, the insult became a mobilizing emblem of grievance, victimhood, and defiance for legions of white people who felt ignored and disrespected by the well-heeled liberal elite. Before Clinton realized she had stumbled, and well before she could offer a semiapologetic qualification, the "deplorables" followed a time-honored tradition of co-opting the insult and investing it with in-your-face agency.
As an emblem of identity, "deplorables" harnessed white anger and anxiety emanating not only from trailer parks, small towns, and the hollows of Appalachia, but also from well-off suburbs, gated communities, and quite a few swank downtown neighborhoods as well. It wasn't merely the people who were already scorned as white trash, hicks, rednecks, yokels, or hillbillies. The anti-Semitic, pro-Trump troll account known as "Ricky Vaughn" was recently unmasked as a Middlebury College graduate who had worked as a consultant in New York while tweeting caricatures of Jews—hardly a member of the "forgotten white underclass," but somehow identifying himself as such. The designation "deplorable" appealed, in other words, to whites who knew daily scarcity as well as those who experienced, in the French sociologist Pierre Bourdieu's description, "freedom from necessity." A label of disapprobation had become a defiant badge of honor.
It's not easy to pigeonhole the late English writer Ian Nairn. But after reading his work—and I'll be focusing here on Nairn's Paris, originally published in 1968 and just reissued by Notting Hill Editions—you might rightly decide that there's no need to do so. His rubric doesn't matter because, whatever kind of writer he is, he follows his own meandering counsel, and the results are consistently brilliant.
We can say this much for Nairn: He's a classic flaneur, walking through cities, observing finely grained details, taking witty notes; he's also a sharp architecture critic, slinging the lingo of flying buttresses and the ha-ha with an easy fluency; and he's even part art historian, or at least a dedicated acolyte, encountering portraits in the Jeu de Pomme that make him "want to sit down and howl."
These charming qualities, in addition to a breezy cultural disposition that allows him to describe a region's cafes and restaurants as "less split up into caff and toff," left me feeling that I had, at least from my across-the-pond perspective, discovered some hidden old-world sage that, in addition to offering a totally pleasant reading experience, might help me see (not really understand but, even better, see) American cities—perhaps even my own—with more generosity and clarity.
Read more here.
The following is the opening of my cover story for the Winter 2018 The American Scholar. The rest of the piece can be found here.
On June 21, 2017, ExporTech, a California-based poultry wholesaler, accomplished something both commonplace and unprecedented. The commonplace was to import to the United States five cartons of cooked chicken. The unprecedented was to do so from Qingdao, China. The United States had never imported chicken from China for human consumption. The ExporTech shipment indicated that that situation was about to change.
The inspection form issued by the Chinese government described the shipment's contents as "Cooked Battered Darkmeat Chicken Chunks." Another line on the official form further specified the meat as "poultry/Patties-Nuggets." The exporting company—Qingdao Nine-Alliance Group Co., Ltd.—certified that the enclosed poultry product was "sound, healthful, wholesome, clean and otherwise fit for human food." It added that the contents "are not adulterated" and that the chicken was "cooked throughout to reach a minimum internal temperature of 74 degrees C (165 degrees F)." These imported nuggets, in other words, were ready to be heated and eaten.
Who ate them is impossible to say. ExporTech, a private company with five employees and an office located in a two-bedroom residence in Pasadena, is under no legal obligation to report where, when, or to whom it sold these 110 pounds of imported chicken. Furthermore, because the chicken arrived in cooked form, it was not subject to Country of Origin Labeling (COOL) laws. During my research for this article, the company's website was down, its informational email address bounced my query back, and when I called the listed phone number to ask questions about that single shipment of imported chicken—starting, for example, with "why?"—a woman told me the owner was not there and immediately hung up.
ExporTech's June shipment was made possible by a May 2017 Trump administration trade deal with China. According to the agreement, the United States could again export beef to China—banned since 2003 because of an outbreak of bovine spongiform encephalopathy, or mad cow disease—in exchange for allowing the Chinese to export cooked chicken to the United States. For the beef industry, this exchange was a long-awaited boon. "REAL news!" President Trump tweeted, celebrating the deal.
As matters stand in November 2017, two important restrictions are in place. One, the Chinese can export only cooked chicken. Two, the cooked chicken cannot originate in China but must come from Chile, Canada, or oddly enough, the United States. (The ExporTech chicken came from Chile.) As to why the chicken now has to cross the Pacific twice before arriving in Pasadena, Brian Ronholm, former deputy undersecretary of food safety at the U.S. Department of Agriculture, told me that it's surely a temporary measure. "No one," he said, "really believes anyone would use that system." Instead, he explained, the one instance of importation by ExporTech represented "the U.S. government's demonstration of good faith" as it prepares to permit what the Chinese are ultimately seeking in exchange for U.S. beef: the freedom to export to the United States chicken raised, slaughtered, and processed in China.
Five days before ExporTech imported chicken nuggets from Qingdao, USDA's Food Safety and Inspection Service (FSIS) entered the following note in the Federal Register: "FSIS is proposing to amend the poultry products inspection regulations to list the PRC [People's Republic of China] as eligible to export to the United States poultry products from birds slaughtered in the PRC." Those last six words represent a critical distinction. With considerable corporate support backing the move, including President Trump's close ties to the beef lobby, FSIS's proposed budget increase in an era of dramatic federal downsizing, and the U.S. chicken industry's hopes of leveraging this agreement to export chicken feet (called "paws") to China—Chinese-sourced chicken will almost certainly enter the food supply of the United States soon. Jim Sumner, president of the USA Poultry and Egg Export Council, told me to expect to see that happening sometime in 2018.
The United States, the world's largest chicken producer, hardly needs this chicken. But as UC–Davis professor of veterinary medicine Maurice Pitesky told me, "If it's cheaper, we'll take it." Likewise, Sumner said that if the Chinese manage to get costs down to compete with U.S. chicken, they should be allowed to play ball in the United States, just as they already do with their chicken in Japan, Hong Kong, and Europe. Ronholm estimates that Chinese chicken will never amount to more than two to three percent of the U.S. chicken supply. Even the National Chicken Council has celebrated the Trump deal, noting that "the low volume of trade is likely to have little effect on supply, demand, and prices." The beef lobbyists, for their part, will remain over the moon no matter how much Chinese chicken comes our way. To them, it's the price of admission.
On July 4, around 8 am, the French Quarter was wild with heat. I walked up St. Peter's and took a left on Bourbon, where street cleaners hosed off the previous evening's bacchanalia of regret. At Canal, I went left and by the time I reached St. Charles my glasses were fogged with humidity. I crossed Poydras and went to Camp Street. From there, I went right and my pulse quickened, anticipating the famous absence I'd traveled here to witness. I was making this walk well after the press had left town and well before white supremacists terrorized Charlottesville, Virginia, to experience the empty plinth where a statue of General Robert E. Lee once stood.
But then my geography got rusty. I was expecting to see the conspicuous display of emptiness about two blocks straight ahead. My body tensed in anticipation. But crossing Andrew Higgins Street, I looked right to make sure all was clear, and it was in that nanosecond that I unexpectedly got a direct view of the nothingness that was indeed something and—a reaction I don't typically have—I gasped.
Read more here.
In the fourth volume of Brett's Miscellany, published in Dublin in 1757, readers could find an entry on a custom called "throwing at cocks." This was an activity where a rooster was tied to a post while the participants, as if playing darts, threw small weighted and sharpened sticks (called coksteles) at the poor bird until it expired. The article explored the sport's origin: "When the Danes were masters of England, and used the inhabitants very cruelly," it began, "the people of a certain great city formed a conspiracy to murder their masters in one night." The English artfully devised "a stratagem," but "when they were putting it in execution, the unusual crowing and fluttering of the cocks about the place discovered their design." The Danes, tipped off by the commotion, "doubled their cruelty" and made the Englishmen suffer as never before. "Upon this," the entry concluded, "the English made custom of knocking the cocks on the head, on Shrove-Tuesday, the day on which it happened." Very soon "this barbarous act became at last a natural and common diversion, and has continued every since." Thus the innate human urge to throw things at things entered the early modern era.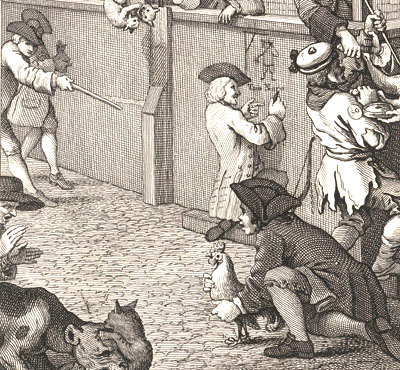 WILLIAM HOGARTH DEPICTED COCK THROWING IN 
THE FOUR STAGES OF CRUELTY, CHILDREN TORTURING ANIMALS 
(1751).
Throwing at cocks continued well into the late eighteenth century. Although the custom, according to Remarks on the character and customs of the English and French (1726), exemplified a "diversion of the meanest of the populace," throwing at cocks was soon normalized. It ranked up there with "playing at foot ball," "bowls," and "prize fighting." A Complete History of the English Stage (1800) referred to it as an "annual sport." In 1747, a volume called The History and Present State of the British Isles lumped throwing at cocks with "wrestling," "footraces," and "nine pins" as "the sports of the common people." A regular activity, in other words.
In time, the moralists cracked down on such hoi-polloi barbarity. Anyone who knows anything about throwing at cocks probably does because of Hogarth's etching, First Stage of Cruelty, which demonstrates—while censuring—the incivility of this particular blood sport. John Brand, in his 1777 Observations on Popular Antiquities, notes that, "to the credit of our northern manners, the barbarous sport of throwing at cocks on Shrove Tuesdays is worn out in this country." A London minister who published a lengthy sermon on the topic urged "the suppression of the throwing at cocks in the town or city" because it was an activity that all too easily exemplified how "the lower orders of people among us are eminently reproachable." By 1793, the Country Spectator advised that throwing at cocks should be met with the "pain of your heavy displeasure."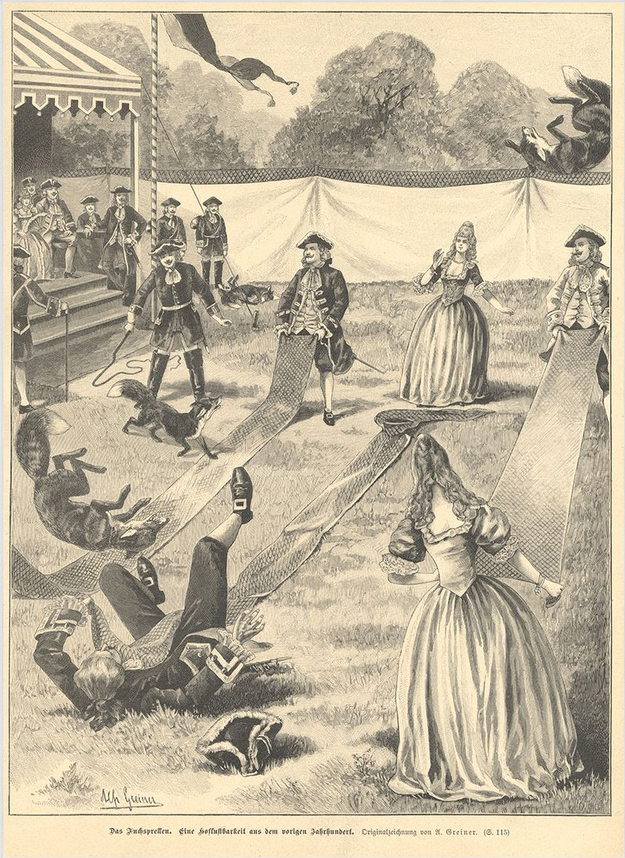 AN ENGRAVING OF GERMAN ARISTOCRATS ENGAGED IN THE SPORT OF FOX TOSSING (1895).
The concern here was more with the "common people" than the animals they abused. The rabble, according to elite assumptions, shouldn't get too rambunctious. But among the aristocracy, blood sport persisted uninterrupted. Starting in the seventeenth century, leisure-minded nobility would often gather in expansive courtyards, drink enough alcohol to sedate an elephant, and catapult foxes (or other animals) skyward. Fox tossing—or, as it was known in Germany, where it originated, Fuchsprellen—was a two-person team sport. In preparation, each member of a team would stand about twenty feet apart, grab the narrow ends of a large rectangular sling, and lay it flat on the ground. A fox would then be released from a cage and driven over to the awaiting tossers. As the panicked fox scurried over the slings, participants tried to catch the animal with their taught fabric and jerk it skyward. Experts might send the animal hurling as high as twenty feet, and victory was given to the highest fox toss. When many teams were playing at once—which was not unusual—multiple foxes would be released and, when all was going well, tossed foxes would fill the sky.
Read more here.
You have to wonder, when considering Frank Stanford, if poetry isn't a little like science in that individuals matter only in so far as they resemble other individuals. Stanford's exclusion from anthologies, his obscurity even to other poets, and the sense that, as one reviewer confessed, "it was difficult to explain where [his] orphic power came from," all contribute to the myth that Stanford, who killed himself in 1978 (aged 29), eluded recognition because he rose de novo from the same Arkansas red soil into which he fell. The additional fact that, as a physical specimen, Stanford was a latter-day Adonis only enhances the myth of his exceptional nature. "His eyes," wrote a friend, "were soft to the point of bovine." His wife, Ginny, an artist, recalled that when she first saw Frank "it was like getting hit on the head with a brick."
There's truth in the romanticized Stanford: He was undoubtedly a rare and beautiful creature. Some critics classify him as a "swamp rat Rimbaud." But that's more cool than accurate. He didn't really know swamps. He knew levee camps, the dark wooded expanse of rural Arkansas, and the gutted mobile homes of the downtrodden. While the id-leakage and surrealist tinge of his work—all of it available in one volume, What About This—hint at Rimbaud, such qualities evoke more a caricature of Rimbaud than the itinerant absinthe addict seeking literary companionship in the metropolis. That kind of quest was one that Stanford, who would have rotted internally at a New York literary gathering, wasn't eager to undertake. "I don't give a shit about a lot of the literary goings on I hear about," he wrote to the poet Alan Dugan, one of his few reliable correspondents. He brushed aside his better-connected contemporaries as overeducated aesthetes "who school up on theories and shit like minnows."
More here. 
Few readers, even the well-read, know much about Allen Tate. Those who do know the arcane American poet—usually professors who teach "southern literature"—would likely not label him a humanitarian. Cerebral, distant, combative, self-obsessed—yes—but not a social reformer in any sense of the term.
And yet (a million caveats notwithstanding) there is something morally ambitious about Allen Tate. For a man whose defining question was "Whom and what shall our souls believe?," this ambition seems a reasonable premise from which to start exploring this underappreciated man of letters. 
A careful reading of Tate's poetry, essays, and letters—comprising nearly a half-century of output—reveals an ongoing humanizing preoccupation: Tate and his fellow travelers—known in the 1920s as the Fugitives and, later, the Agrarians—wanted his readers, particularly those in the South, to feel spiritually at ease in their southern-ness. He wanted them, as complete selves, to be meaningfully connected—weft in the warp—to the American South.
For this to happen, the southerner had to undergo a critical conversion, one that he deemed "violent." The southerner, in essence, had to acknowledge his dissociation from the modernist present while understanding himself and his civilization as continuous with a stable, heroic, and mythical past. The empirical nuts and bolts of history were not so much to be ignored as transcended. Contemporary civilization, in turn, would naturally hew to this intellectual shift.  Eventually, a southern city on a hill would emerge.
This utopian vision of the South, while generous, was elusive. It was made even more so by the belief that the work of poetry could bring it to fruition. And, of course, poetry decidedly failed to bring it to fruition. Tate's quest for a southern renascence suffered, in the end, from a tragic flaw that became increasingly evident as the empirical history of the twentieth century turned the nation's focus—and in turn the South's—to the century-long quest for a racial reckoning.
Read more here.